sejak mulanya 1st game, ini lah kerja aku.update jadual match, yg aku ambil dari
sini
.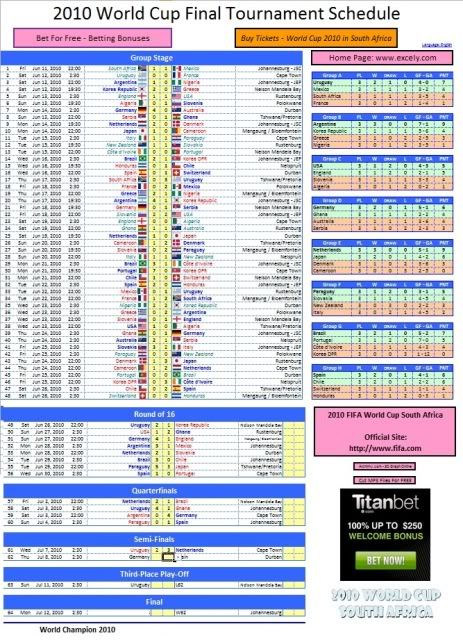 ye. taklah semua match aku tgk. tp boleh lah dalam 61 match, aku tgk 40 match, walaupun taklah semua aku tgk IN HD! *sebut macam Messi sebut. ;p campur awl pagi ni, 3 lagi match.

perlawanan malam ni, aku malas nk tgk. siyes stress. tapi bagus jugak world cup ni, jadi peneman burung hantu spt aku. yep, world cup kali ni byk bg makna bg aku. macam2 lah pahit manis. dugaan itu ini.

cuma aku harap. aku kuat, ntah tataw kenapa, aku rasa xde orang boleh tlg aku. aku kena tlg diri sendiri, no one. Tuhan saja yg tahu. aku bukan nk buat drama, tp ini realiti.

harap2 the next world cup, 4 tahun akan datang, will be better.

ok mls nk ulas pjg. takut menyakiti hati orang dan diri sendiri. nak tgk match malam ni, tp sotong paul kurang ajar ni spoil mood aku. arghh!

ok bai.