malam tadi, tdo lewat lagi.

malam jumaat nk buat cite seram. tepat kul 12 tghmlm ada bunyi org bertukang kat atas. siyes jelas gile bunyik. Aket yg dah tido pun bleh terjaga. aku? buat donno je. kang kalo layan sgt, maunye terjun ke katil Aket. hehehehhe.

ok sbnrnye nk kepoh ni je. skg ni byk fokus Hotel City sahaja. sampai terabai butik i di Mall World. so malam td bkak butik jap, tetiba masa nk main dressing room ada iklan ini, tetiba lak kan ada Heidi Klum, promot season 8 of Project Runway!

as you know in fashion...one day youre in...and the next day you' re out.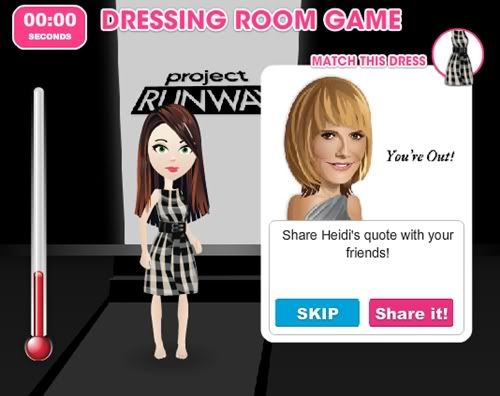 yes, you're out!! sebab ralik baca blog org terlupa mall world jap ;p
dressing room game ni, sng je. just match kan dress dgn kasut, aksesori dan handbag pada model tersebut dalam masa yg diberikan. jika cun dan sebelum masa ditetapkan, Heidi akan berkata, You're IN!

berangan jadi designer pulak. alah tp kat astro ada season 6 jewww. boringggg. haruslah kita download ;P

ok bai.